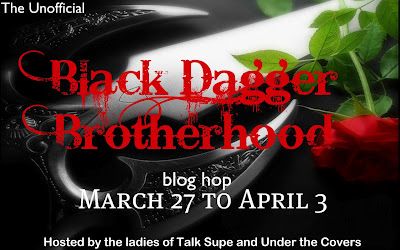 In anticipation of the release of Lover Reborn, by J.R. Ward. I did a re-read of Lover Unleashed, to refresh my memory. In reading other reviews, I felt like there were story lines that I didn't completely absorb. I'm really glad I did, because I think I only glossed over the content for Vishous and Butch the first time.
The problem with doing a re-read is you already know some of the main things that happen. There are a few scenes with Vishous and Jane that I knew were coming and I knew were very emotionally charged. It made getting through the book hard because I would get to the start of the scene, and I was either too close to sleep, or in too public a spot to continue on. Those scenes were meant for private reading spaces where you can weep freely without freaking people out. Oh and weep I did.
Payne is sister to the Black Dagger Brother Vishous. Injuries she has sustained from sparring with the Blind King have left her paralyzed from the waist down and only the skilled hands of Manny Manello can get her walking again. Ok, tough time with that sentence. "Skilled hands", "restore feeling" and "waist down", hmmmm was I talking healing or something else... anyway... where was I? I think that this book was supposed to be based mainly on Payne and Manny, but I found that the other storylines sort of over shadowed it a little.
After reading some other reviews, I think I understand now why the Jose De La Cruz and Veck's storyline totally puzzled me. Others have said that it is related to the Fallen Angels series, and I've never read any of those, so that explains it. I felt that that part of the book kind of ended up in the air and I just didn't see the real reason it was even in there except for the one connection with Xcor and his gang.
Ok, now for some good news. I want to have my first giveaway. BDB is my favorite series and I want to spread the love and have everyone read them! So, I am going to offer up one copy of Dark Lover to get someone started. This contest will run until April 10, 2012. So if you have never read the Black Dagger Brotherhood books, where the heck have you been for one, second, what are you waiting for!
Get entered!
Even if you have read the books, enter anyway and help spread the love! This giveaway is only valid for residents of the US and Canada. If you don't own the books already, you can buy them below, or over there ---> on the right.
a Rafflecopter giveaway
This post is part of the Unofficial Black Dagger Brotherhood hop. You can sign up and participate below!